Regular price
Sale price
$11.99
Unit price
per
Sale
Sold out
Evictor is a ready to use insecticide and repellent designed for indoor and personal use. Evictor protects against bed bugs, fleas, ticks, ants, mosquitoes and mites.
Made from Natural Cedarwood oil
Kills and repels bed bugs, fleas, ticks, ants, mosquitoes and mites
Works Fast
Ready-to-use (No need to dilute)
Use daily, weekly or as needed
Happiness Guarantee
View full details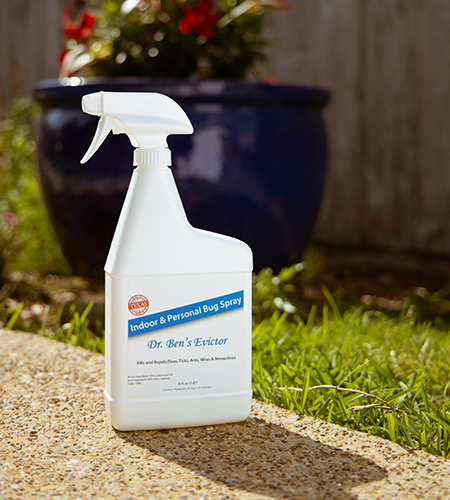 Dr. Ben's Evictor
Dr. Ben's Evictor kills and repels bed bugs, fleas, ticks, ants, mosquitoes, mites, and other biting, damaging pests in all stages of life, including eggs
Handmade from cedarwood oil and other plant-based ingredients, Dr. Ben's Evictor is family-safe and natural.
Dr. Ben's Evictor is safe for people, pets, clothing, furniture, carpeting, bedding, and gear. It dries quickly and does not stain.
How to Use
Apply to people, pets, clothing, and gear to kill, repel, and prevent painful bug bites
Spray indoors as needed to kill bugs and prevent costly insect problems without exposing your family or pets to dangerous chemicals
How It Works
Powered by nature, Cedarwood oil is the active ingredient that fuels our products at Cedar Oil Industries. The natural essential oil repels and kills various biting, flying, and damaging insects and arachnids.
Cedarwood oil kills and repels bugs naturally in a number of ways: It disrupts their pheromones, messes with their body chemistry, and leads to dehydration and suffocation.
Who We Are
Cedar Oil Industries is a company with over 20 years of pest control experience.
Not confident? We offer a 30-day money back guarantee.
Cedar Oil Industries uses plant-based natural ingredients for effective, family-safe pest control.
Got Bugs? Check Out Our Blogs Below!
Once a flea problem grows into a full blown infestation, it can take considerable effort and time to get rid of.

Read More

Tired of dealing with ants in your lawn or home? Do they return year after year, no matter what you do? We can help.

Read More

Around for some 79 million years, mosquitoes are among the oldest and most dangerous animals to inhabit the earth.

Read More
Dr. Ben's Evictor ~ Top Notch Excellence
Thank you for Dr. Ben's Evictor Indoor/Personal use. I have moved to an area where roaches, fleas, and mosquitoes reside. And I've had to take it upon myself to rid the place of as many of those pests as possible. I work late shifts and the last thing I want is to be kept awake at night by the incessant sound of mosquitoes buzzing in my room. One night it was so bad, I took my sprayer bottle of Evictor and when I heard the mosquito buzzing around my head, I lifted the bottle up and shot at it. Missed the first time but I immediately angled the bottle in the opposite direction and--no more buzzing, ever, that night! I've also had to do that for the bathroom where there were more mosquitoes. Dr. Ben's got rid of the whole nasty lot, not to mention the fleas and roaches that became uninvited guests before ordering from you. Thank you so so much for Dr. Ben's Evictor. I will be buying from you all again when my still (almost) full bottle of spray is getting low. You all are blessings!
P. S. My landlady says it smells wonderful, like the Swedish cedar woods she remembers growing up around as a little girl. Thank you again.
Love the product I have been using it for a hunting aplication for 5 years On my hunting show,I promote it as a cover/tick spray.I have not been bitten by a chiggers or tick in 5 years.With alphagale and Lyme disease bad in this region I have told everyone about this product.I also notices it was back on Amazon as well. keep making the wonderful product and if you ever need marketing contact us on Facebook" Through the eyes of a hunter"would love to work out some sponsorship and help with your marketing.thanks again for keeping my family and friend tick free
I am happy with the cedar oil! I use it on my dog to kill a few fleas I found on her. It also repels mosquitoes. I can put it on my skin
Been using this stuff exclusively for over 10 years. Great stuff!