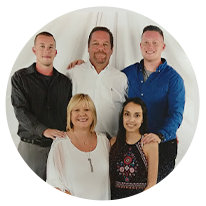 For over 10 years, Cedar Oil Industries has been offering non-toxic, naturally derived pest management solutions for people, pets and homes.
A Message from Our Founders, Bob and Cecilia
We believe in natural solutions and that's ultimately why we started Cedar Oil Industries—to get away from harmful chemicals.
Many years ago, 2 of our 3 children developed serious medical conditions, issues we believe may have stemmed from toxins in the environment, especially the widespread use of traditional pesticides. After these experiences, we knew we wanted to play a part in reducing the negative impact toxic pesticides have on people, pets, and our planet.
Our mission then and now remains the same: To build partnerships with consumers and organizations to protect our communities from chemicals and harmful insects through innovative, eco-friendly pest control solutions.